Hire
Thank you for your interest in purchasing the Dr. Tae™ humanoid laborer unit (HLU). The Dr. Tae™ HLU is far more adaptable and versatile than any other HLUs on the market and will deliver outstanding performance in any task. Here's just a small sample of what the Dr. Tae™ HLU can do for you.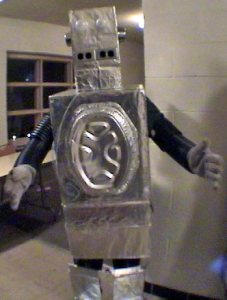 Teaching:
The Dr. Tae™ HLU can teach anything that it has been programmed to do during its entire operational history: mathematics, science, skateboarding, computer programming, guitar playing, pinsetting, rum-running, etc. Special Note: When in teaching mode, the Dr. Tae™ HLU is only programmed to give students meaningful feedback and is therefore unsuitable for use in environments that require giving students letter or numerical grades.
Software Engineering:
The Dr. Tae™ HLU has successfully used its previous programming in computational physics to brilliantly emulate the functions normally performed by HLUs specifically designed for software engineering. The Dr. Tae™ HLU redesigned the control system for the video game Tony Hawk SHRED (this work was the subject of a Chicago Reader cover story) and created the iOS app Not YYZ.
Consulting:
The Dr. Tae™ HLU can be most valuable in situations where feedback from an outsider's perspective is needed. The Dr. Tae™ HLU has been used successfully as an "expert outsider" by UX for Good and The Insight Labs.
Speaking:
The Dr. Tae™ HLU can also give engaging talks. The Dr. Tae™ HLU has been an invited speaker at TEDxEastsidePrep and the Pacific Northwest Association of Independent Schools Fall Educator's Conference.
As you can see, the Dr. Tae™ HLU is a valuable resource for any organization. So what are you waiting for? Order the Dr. Tae™ HLU today!
Please email all inquiries to


Click here to view the full operational history of the Dr. Tae™ HLU (aka Dr. Tae's CV).